3 Reasons I'm Excited About The New Spark Camera Remote
This past week, Alpine Labs launched a Kickstarter campaign for their newest product, the Spark Camera Remote. Like their other ingenious tools, Spark promises to be a godsend for landscape photographers who want a quick, easy way to remotely trigger their camera in a variety of situations.
Here's why I'm so excited to get my hands on a Spark Camera Remote.
Is this the last #camera remote you'll ever need? – https://t.co/ysfBL3lx4q pic.twitter.com/uxwimcWiOx

— Jim Schubert (@SchubertJim) May 2, 2017
1. Three Ways To Trigger A Shot With Spark Camera Remote
Infrared – Spark fits easily in the palm of your hand. Looks like it's about the size of a modern day car key fob. So you can use it like any other infrared trigger release and point it at your camera's infrared sensor to release your shutter. Super handy if you want to give your camera some breathing space and minimize the chance of bumping your tripod while working.
Wired Trigger – If you're old school (like me) or just want extra peace-of-mind that your trigger will work, use Spark's included cable. Attach one end to Spark and the other to your camera's cable release port. Voila! Instant traditional cable release.
Phone App – If you really want to get fancy, attach Spark to your camera's hot shoe and use the Spark app on your phone for full control. The app uses your phone's Bluetooth signal to remotely control Spark from up to 100 ft. away. You can setup a customized timelapse (including bulb ramping). Shoot long exposures beyond 30 seconds. Setup bracketing for HDR. And even use Spark to take a group selfie.
2. A Timelapse Lover's Companion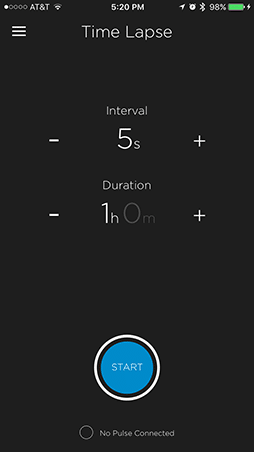 I've been a huge fan of Alpine Labs ever since they released the original Radian timelapse device. And while the Spark Camera Remote doesn't pan or tilt to create movement on it's own, it's a cinch to setup timelapse sequences as Radian.
Completely controlled through the Spark app, it looks like timelapse control is going to be just as easy to select your interval and duration as Pulse, another Alpine Labs camera gear creation. (See Pulse timelapse screenshot here.)
 3. No Battery Charging!
One of the coolest things I'm excited about with Spark is that you won't need to charge any batteries. Alpine Labs tells us you should get over 2,000 hours of use from one regular coin-sized watch battery!
This is invaluable for people like me who have "charge anxiety". The excitement of a last-minute photo opportunity can quickly fade if you don't have everything charged and ready to go.
With Spark, you don't even have to turn it off. It goes to sleep when you're not using it. And you can wake it up just by pressing it's one universal button.
3 Reasons I'm Excited About The New Spark #Camera Remote From @AlpineLabs – https://t.co/ysfBL3lx4q pic.twitter.com/5kViRjBJhX

— Jim Schubert (@SchubertJim) May 2, 2017
Have you ordered Spark yet?
If the the Kickstarter campaign is still going one when you read this, you can join as a backer to get your hands on Spark when it's available. If not, you should be able to purchase Spark directly from Alpine Labs, once it's ready for mass market.
Let me know what you think about Spark in the comments below.