5 Valuable Sunrise Photography Tips I Will Never Forget
6:15 AM  – Fripp Island, South Carolina – The alarm on my phone goes off to wake me up…..while I'm on VACATION! How rude. But it was finally time to put all the sunrise photography tips I'd learned into practice.
The solitude of an empty beach is what I love most about Fripp Island.
So as a budding photographer, how would I best capture that feeling?
Tip #1: Wake Up (Even) Earlier
I thought I was giving myself plenty of time to get to the beach before the 6:50 AM sunrise. 
My headlamp was on top of the pile of clothes I had laid out the night before. But, before I even opened the curtains to peek out, I could tell I wouldn't need it.
I went into double-time working as fast as I could to throw on my clothes and strap on my Lowepro ProTactic 450 with all my gear inside. All while trying not to wake up my wife.
I had expected it to still be pretty dark 20 minutes before sunrise. But when I got outside, I could see just fine. And that worried me.
Once I realized I might miss the big event, I hustled to the beach as fast as I could.
Here's me trudging through the dunes pre-dawn to get to my location.
Tip #2: Research Your Location Ahead Of Time
I had scouted out this piece of driftwood the day before. Snapped a few quick pictures from my iPhone at different angles, having a general idea of where the sun would rise. Thank you, built-in Compass app!
Here's some of the test shots I took the day before. (My 5-year-old helped me scout them out.)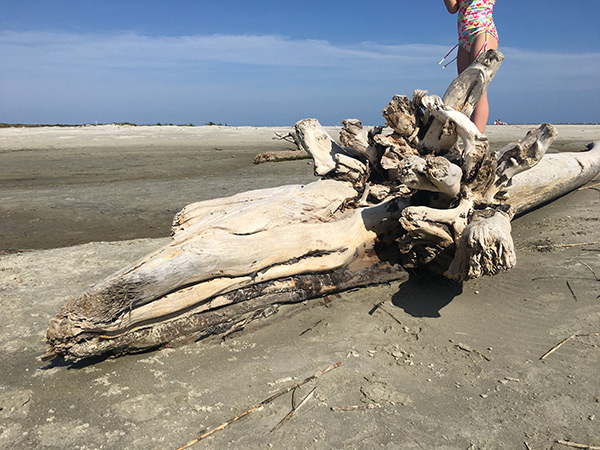 One of the most important sunrise photography tips I can offer, by the way, is to use a mobile app that will tell you the sunrise time for your given location. Any good weather app should have this information.
There was a tidal pool right behind this tree with several other remains of palmetto trees and others I couldn't distinguish. So I knew there were other shots I could take, if I had time.
This one was my favorite, though. It reminded me of a spaceship. Like something from Star Wars. Especially lying on the alien-looking landscape of the empty morning beach.
I shot this from several different angles, but finally settled on this one to hone in on. The tree actually has a long curving trunk that you can't see as well in this shot. But I thought the "business" end of this thing looked so gnarly and yet beautiful at the same time.
Here's how the shot turned out after post processing in Lightroom.
Tip #3: Plan To Shoot Multiple Subjects
One of the most valuable beach sunrise photography tips I learned that morning was to have multiple subjects ready to shoot.
The first shot I took wasn't even among these trees. It was this one just a few hundred feet away in the sand dunes.
I actually got a lot of practice in with this one, adjusting my camera settings for the optimal exposure. That helped me shoot the other subjects on the beach faster. And in turn, that extra time allowed me to get more compositions in than I had anticipated.
Tip #4: Anticipate Your Gear Needs & Camera Settings
I hadn't done much sunrise photography before, but I knew I'd need a few things to get my exposure looking the way I wanted.
The most important things I packed that morning were: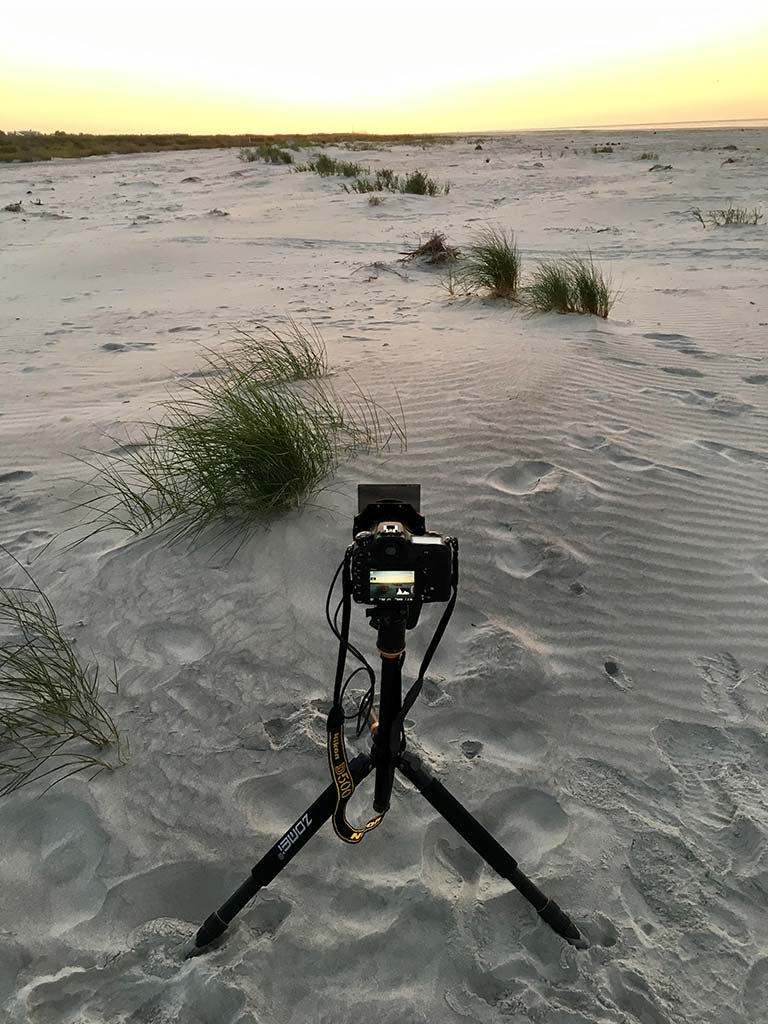 Camera Settings
Since I knew I'd be catching the sun just at or above the horizon, I anticipated having to use longer shutter speeds to let more light in. The driftwood shot was at 1/25 seconds. But I was able to keep my ISO at 100. The dunes shot, however, required a 400 ISO, because the sun was just barely over the horizon at that point.
Having recently learned how to use hyperfocal distance to get everything in my frame tack sharp, from foreground to background I also took a couple of minutes to calculate what camera settings I would need. I used the chart I downloaded from Visual Wilderness to help with this.
Once I got everything in focus, I fired off a few shots until I was satisfied with what I saw in live view.
Tip #5: Be Prepared To Shoot The Unexpected
Of all the sunrise photography tips I could give you, this one is possibly the most important. And I have to admit, that I failed miserably from a photo perspective.
Here's what happened.
Patting myself on the back, I was walking back to our rental house, almost whistling.
And then it happened.
A long line of about 50 pelicans flew by me just overhead catching the first morning light.
And where was my camera? Right, neatly packed away in my bag with the rest of my gear. Tripod securely fastened to the side.
Long sigh…
Could I have fumbled to get everything out and setup properly in time? Probably not. My heart sank.
But as pelicans often do, they came back around for another shot. This time, I at least had my iPhone ready to record.
What Sunrise Photography Tips Do You Have?
So now that I've given you what I learned from my first sunrise photography shoot, what tips can you share with others here?
Let me know in the comments below.